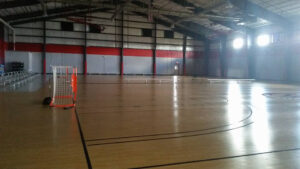 Central Florida SC develops young athletes on and off the field, through the game of soccer. Central Florida SC's goal is to meet each player where they are in their development and help them achieve the next level – to realize their individual potential.
The Indoor Futsal Program is open to anyone – parents, players, coaches, teams & clubs can register a team. No CFSC practice/training is available with this program. Parents, players, coaches, teams or clubs who would like to place a team in the league can have players register individually by entering their coach & team name during the registration process or by registering entire team using team registration below. All others can simply register and they will be placed on a team.
The Futsal league runs in the Winter & Summer seasons and is open to everyone. Indoor soccer/futsal is a great way to stay involved in the game without having to travel or worry about the unpredictable Florida weather.
Program Dates:

Winter: Middle November – Late January.
Summer: Early June – Late July.

Indoor Futsal Courts centrally located at the Well Activity Center – formerly the CPS Sportsplex.
Futsal Program Benefits
More touches on the ball – Small court + Less players = 600% or more touches on the ball than regular soccer.

Improves Athletic Intelligence – Player's head is always on a swivel, taking in information, anticipating opponent's next move & looking to exploit weaknesses.

Speed of Play – Smaller space & high pressure force players to not only play quicker but also to make faster decisions.

Creativity – Perhaps the single most important reason to play futsal is that it encourages players to be creative & think out of the box.
Program Structure
Open to U7 – High School boys & girls.

8 Games Minimum – Pool games followed by Semi-Finals/Finals/Consolation.

Games are played Sundays 1:00PM – 9:00PM or Thursdays 6:00PM – 10:00PM.

​Small sided 5v5 format including goalkeeper (GK).

Maximum roster size of 10 players per team.

Bring your own team & coach or sign up individually to be placed on a team. Anyone can put a team together!

Experienced referees for all games.
Program Fees
All Ages:

$100/Player or $795/Team for early registration through May 12, 2023

$125/Player or $925/team after May 12, 2023

Registration CLOSES May 26, 2023
Fees Include:
League Shirt.

Field Rental Fees.

Referee Fees.

Trophy & Medals – Champions & Finalists.
| | |
| --- | --- |
| Day/Date | Games Kickoff at |
| Sunday June 4, 2023 | 1:00PM |
| Thursday June 8, 2023 | 6:00PM |
| Thursday June 15, 2023 | 6:00PM |
| Sunday June 18, 2023 | 1:00PM |
| Thursday June 22, 2023 | 6:00PM |
| Sunday July 9, 2023 | 1:00PM |
| Thursday July 13, 2023 | 6:00PM |
| Sunday July 23, 2023 | 1:00PM |
| Thursday July 27, 2023 | 1:00PM |
| Sunday July 30, 2023 | 1:00PM |